0
1.13.2 - Conversation Media, Group Chat Drips, Shipping for Free Users, and Inbox Bulk Actions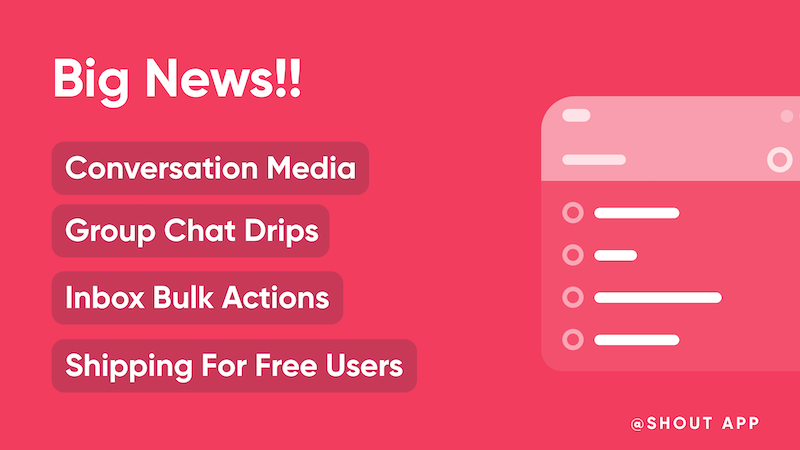 Hey folks, we've just released Conversation Media, Group Chat Drip Campaigns, Inbox Bulk Actions and enabled Shipping Labels for all users (not just paid accounts). Check out the details below!
CONVERSATION MEDIA
Shout now automatically shows you all the media that has been shared inside of a conversation. Just click on the Profile (Direct Messages) or Info (Group Chats) section and tap "Media". This will open a modal (web) or drawer (mobile) and show you all the Media, Documents, and Links that have been shared in the conversation. Long press (mobile) or click the action menu (web) to download or copy the picture, video, document, and link. So helpful! Check out screenshots here:
https://help.aboutshout.com/t/y4h14l6/media-section

GROUP CHAT DRIP CAMPAIGNS
Group Chat admins can now run drip campaigns right inside their Group Chats. Just tap the drip icon (water droplet) in the composer or on the Info (Group Chat) tab. This makes it super easy to demonstrate Messenger / Text parties and onboarding for your teams. Check out how admins can run a drip in a group chat here:
https://help.aboutshout.com/t/83h1dbf/running-a-drip-campaign-in-a-groupchat
SHIPPING FOR FREE USERS
Our amazing shipping labels features is now available to all users, even free users!!! Yes, that's right. Anyone can purchase shipping labels right inside Shout now. Check out how to use Shipping on a Free Account here:
https://help.aboutshout.com/moderate/t/p8h1cks

INBOX BULK ACTIONS
It's now way easier to manage your inbox with Bulk Actions. Just click on the profile photo (web) or long press the conversation (mobile) to select a conversation in the Conversation List, then tap "Select All" or just select the conversations you want, tap the "Bulk Actions" button, and select your actions. You can easily Mark Conversations Read or Unread or Open and Closed super fast from Web or Mobile. Web also includes mute and unmute and pin and unpin bulk actions. Check out screenshots here:
https://help.aboutshout.com/moderate/t/83h14fz/inbox-bulk-actions
Was this article helpful?
Follow